Would you like to spend the last days of the year in a natural, genuine, absolutely unconventional way?
An end of the year that is out of this world! Light years away from what you hate most:
No stress, problems, performance anxiety for dress code
No appearance, crowd, loud music
No heavy meals with meat and animal fat, to be disposed of with diets
.
At L'Essenza Sensory Oasis, a vegan New Year's Eve is waiting for you in the Nature. Inner cleansing for the new year that begins: freedom to rest, stretch and create, growing without limits of space in an island which lives in a state of grace since millennia.
Spend Christmas or New Year's Eve at L'Essenza, with your partner, your friends or family, and discover the Tepilora River Park.
.

.
Organize the most important day your own way: what better way to thank the year left behind and welcome the new one, surrounded by trees and your loved ones?
Days of simple and authentic life, warm up with the fireplace lit by Marina with wood from Mother Earth. Rediscover the essence of life, work on the inner changes to face a new era. In a simple and sincere atmosphere, focus on the improvements for your life and the lives of those around you.
.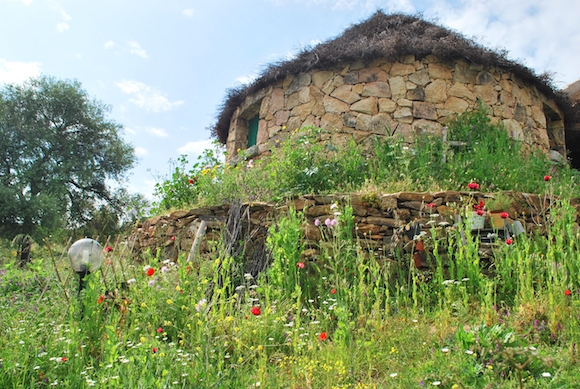 .
Accommodation in traditional huts, single, twin, double or triple, fully furnished and heated rooms, including colortherapy and aromatherapy from essential oils of Sardinian plants. The way towards a greater awareness, breathing energy with healthy country air, relaxation, easing of tensions, meditations and relaxing walks, silence, herbal teas and many emotions!
Possibility to book massages, treatments, excursions and yoga sessions…
.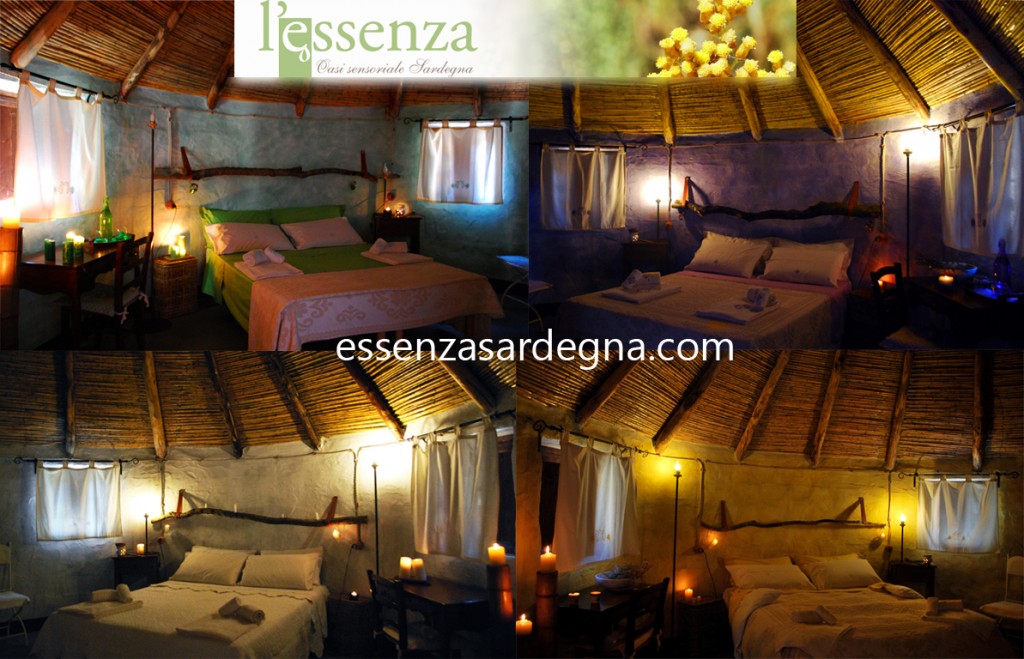 .
Our hut-rooms with Aromatherapy and Colortherapy. Below detailed properties and benefits:
Myrtle Room: Purification. Useful to detoxify the body and mind from accumulated toxins. Room environment color: White. Purifying Aroma: Myrtle.
Lavender Room: Relax. Suitable for people who suffer from anxiety, headaches, insomnia. Room environment color: Purple. Relaxing aroma of lavender.
Juniper Room: Balance. Suitable for those who need to regain the balance of body, mind and soul. Room environment color: Green. Balancing aroma: juniper.
Helichrysum Room: Energy. Indicated in case of loss of energy, weakening of the immune system, for the regeneration of the psycho-physical conditions. Room environment color: Yellow. Invigorating aroma: Helicrysum.
.
L'Essenza – sensory Oasis in Sardinia is…
• bed and breakfast
• 4 bedrooms with bathroom
• colortherapy and aromatherapy
• fireplace and reading corner in the main room
• 1 acre overlooking the sea with seating areas
• Meditation, yoga, hiking
• workshops, courses, seminars
Check out all the photos
.
We hope our proposal is to your liking, we are available for any additional information!
Contact us: essenzasardegna@gmail.com